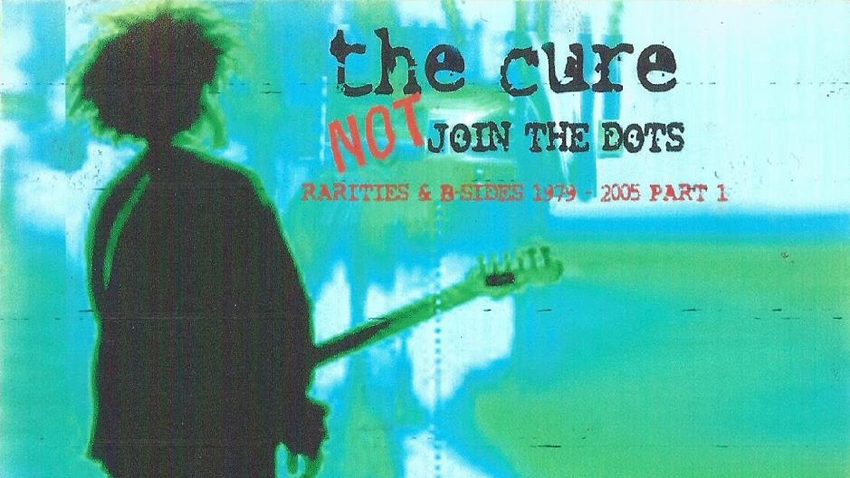 En 2004, Fiction commercialisait le coffret The Cure - Join The Dots, regroupant singles, faces B et autres raretés. Problème : la liste était loin d'être complète. C'est désormais chose faite avec Not Join The Dots, une compilation non-officielle réalisée par quelques fans déçus et volontaires.
Couvrant la période 1979-2005 (contre 1978-2004 pour Join The Dots), la compilation ironiquement appelée Not Join The Dots par ses créateurs s'étale sur pas moins de quatre CDs pour 66 chansons. On y retrouve ainsi quelques pépites laissées de côté par la compilation officielle : des démos de l'époque d'Easy Cure (See The Children, You're So Happy), une version de Forever du concert parisien de 1982 (connue également sous le titre de All I Had To Do Is To Kill Her), Ariel (censée être un titre de l'album solo de Robert Smith), les 4 Lost Wishes, Spilt Milk (titre issu des sessions de Bloodflowers uniquement disponible en téléchargement), des chansons extraites de l'album The Cure de 2004 (Truth Goddness & Beauty, This Morning), et pas mal de remixes un peu oubliés (Watching Me Fall - Underdog Mix), etc.
Bref, vous l'aurez compris, cette compilation officieuse comble les trous laissés par Join The Dots...
A noter cependant que beaucoup de ces titres, présents sur Not Join The Dots, n'auraient pas leur place sur un disque officiel de The Cure. Car, en effet, soit le groupe n'en possède pas les droits, soit cela ne concerne que Robert Smith et pas The Cure. C'est notamment le cas pour les chansons interprétées par Robert Smith en duo avec David Bowie à l'occasion de son anniversaire au Madison Square Garden en 1997 (The Last Thing You Should Do, Quicksand) et pour des participations à d'autres projets (All Of This avec Blink 182, Da Hype avec Junior Jack, I Want To Be A Tree avec Tim Pope, etc.).
Quoi qu'il en soit, ce Not Join The Dots est une excellente initiative qui complète idéalement Join The Dots !
👉 Télécharger Not Join The Dots sur ace-bootlegs.com
La setlist/infos de Not Join The Dots :
Date : 1979-2005
Demos et raretés
Support : 4 cds
Durée : 315 ' 59 mn
Source : Soundboard
Qualité sonore : 9 à 10/10
Liste des titres :
CD1 – 79:19
01. See The Children (Easy Cure) (3:11)
02. You're So Happy (Easy Cure) (5:00)
03. Pillbox Tales (Demo) (2:26)
04. Desperate Journalist (Grinding Halt' Demo) (2:41)
05. Cold Colours (Primary Demo) (3:51)
06. All Cats Are Grey (Violin Demo) (2:05)
07. Forever (Aka All I Have To Do Is Kill Her – Live In Paris, France On June 7th, 1982) (11:41)
08. Ariel (By Robert Smith For The Kid Jensen Radio Show 1982) (5:35)
09. Siamese Twins (Demos) (2:34)
10. Bird Mad Girl (Demos) (4:57)
11. Cats Like Cheese (Give Me It' Demo) (3:40)
12. Perfect Murder (The Glove) (4:17)
13. Mr Alphabet Says (The Glove) (3:50)
14. Just One Kiss (Original 12 » Mix) (7:05)
15. The Lovecats (Original 12 » Mix) (4:36)
16. Close To Me (Original 12 » Mix) (6:23)
17. You Really Got Me (Live) (2:46)
18. Merry Christmas (Everyone Is Happy) (Live) (2:41)
CD2 – 77:46
01. I Want To Be A Tree (Tim Pope & The Cure) (3:38)
02. Do You Wanna Touch (Live) (7:49)
03. Hey You (Kiss Me Kiss Me Kiss Me Lp Only) (2:22)
04. 0Japanese Dream (Picture Show' Remix) (3:34)
05. Why Can't I Be You (Extended Remix) (8:00)
06. Pirate Ships (Unused Joni Mitchell Cover From Elektra Records Birthday Cd Rubayait) (3:34)
07. A Letter To Elise (Demo Only 2 Track Us Cd5) (7:10)
08. Primary (Red Mix) (5:35)
09. Let's Go To Bed (Milk Mix) (7:15)
10. Open (Fix Mix Us 2 Track Promo Cd) (6:55)
11. High (Trip Mix 12 » Clear Vinyl) (3:32)
12. Cloudberry (The Lost Wishes Sessions) (5:19)12
13. Off To Sleep (The Lost Wishes Sessions) (3:32)
14. Three Sisters (The Lost Wishes Sessions) (4:09)
15. Uyea Sound (The Lost Wishes Sessions) (5:22)
CD3 – 79:42
01. To The Sky (Resurrected Mix) (6:31)
02. Heart Attack (Unreleased) (2:40)
03. Old England (Unreleased) (6:14)
04. Sivvy (Demo Of 'do The Unstuck') (6:17)
05. A Sign From God (As Cogasm From 'orgasmo' Film) (4:49)
06. Numb (Demo) (3:42)
07. The Last Thing You Should Do (Live With David Bowie) (5:40)
08. Quicksand (Live With David Bowie) (4:41)
09. Yesterdays Gone (With Reeves Gabrel) (5:21)
10. Yesterdays Gone (Remix) (5:11)
11. Lost Flower ('bloodflowers' Outtake) (2:40)
12. Watching Me Fall (Underdog Mix) (7:46)
13. Spilt Milk ('bloodflowers' Outtake) (4:52)
14. Cut Here (From Greatest Hits Cd) (4:12)
15. Just Say Yes (Greatest Hits Cd) (3:33)
16. Just Say Yes (Acoustic) (3:29)
17. Don't Believe A Word (Live Thin Lizzy Cover) (2:04)
CD4 – 79:12
01. Wrong Number (Single Only) (6:05)
02. Love Will Tear Us Apart (Joy Division Cover) (3:45)
03. Da Hype (Junior Jack & Robert Smith) (6:40)
04. A Forest (Blank, Jones & Robert Smith) (8:38)
05. Perfect Blue Sky (Junkie Xl & Robert Smith) (4:12)
06. All Of This (Blink 182 & Robert Smith) (4:45)
07. Believe (Earl Slick & Robert Smith) (3:39)
08. Truth Goddness & Beauty (Asia Only 'the Cure' Cd) (4:19)
09. Going Nowhere (Asia Only 'the Cure' Cd) (3:30)
10. This Morning (End Of The World Cd5) (7:15)
11. Fake (End Of The World Cd5) (4:42)
12. Why Can't I Be Me (Alt. End Cd5) (4:16)
13. Your God Is Fear (Alt. End Cd5) (5:06)
14. Truth Goodness & Beauty (Us Dvd Mix) (4:21)
15. Truth Is (Tweaker & Robert Smith) (4:00)
16. To Love Somebody (Billy Corgan & Robert Smith) (3:59)